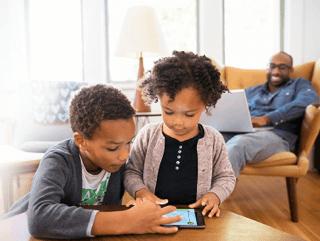 Stay connected
with
HughesNet
Internet
Available where you live today
What makes HughesNet different?
We're America's #1 choice for satellite Internet
HughesNet is high quality satellite Internet powered by high-capacity satellites EchoStar XIX and EchoStar XVII. HughesNet offers broadband level speeds, data options and availability even in areas with slow or no high-speed options. You can live where you love and stay connected.
Every plan comes with:
Fast speeds
All plans come with 25 Mbps of download and 3 Mbps of upload speeds so you can stream your favorite movies and music.
No Hard Data Limits
All plans have no hard data limits, if you exceed the amount of data in your plan, you stay connected at reduced speeds until the next billing cycle.
Built-in Wi-Fi
Your HughesNet modem comes with Built-in Wi-Fi. Connect all your devices and stream from anywhere in your home.
How HughesNet works
HughesNet plans range in data and are measured in gigabytes (GB). Choose a plan with more GBs for a household of multiple users and devices. If you don't get online very often, opt for a plan with fewer GBs.
Data speed is represented by Megabits per second (Mbps) and measures how fast you upload or download data. The higher the Mbps, the faster the connection. All HughesNet plans come with the same satellite Internet speed of 25 Mbps. When you download a song or upload a video you'll always get the same fast connection.
What you get with HughesNet
Check out the exciting features you get when you choose HughesNet.
Affordable service
HughesNet brings you affordable high-speed Internet wherever you live.
Upgrade anytime
No matter which plan you choose, you have the ability to upgrade or downgrade at any time. Just give us a call and we can upgrade you today!
Video Data Saver
This feature allows you to watch more videos using less data without affecting picture quality.
Bonus Zone
With the Bonus Zone you get 50 GB per month of additional data to use during off-peak hours (2am–8am).
Data Tokens
If you exceed your plan data, you can purchase Data Tokens for additional data. Purchase your Data Tokens at any time to fill the extra data you need to restore your service to full speed.
Get the
HughesNet App
Check your data and manage your service from anywhere with the HughesNet App. Download it today and use it to:
Check data usage

Pay your bill

Purchase a Data Token

Check your Wi-Fi signal strength

Adjust video streaming quality to maximize your data usage
Pick your perfect plan today.